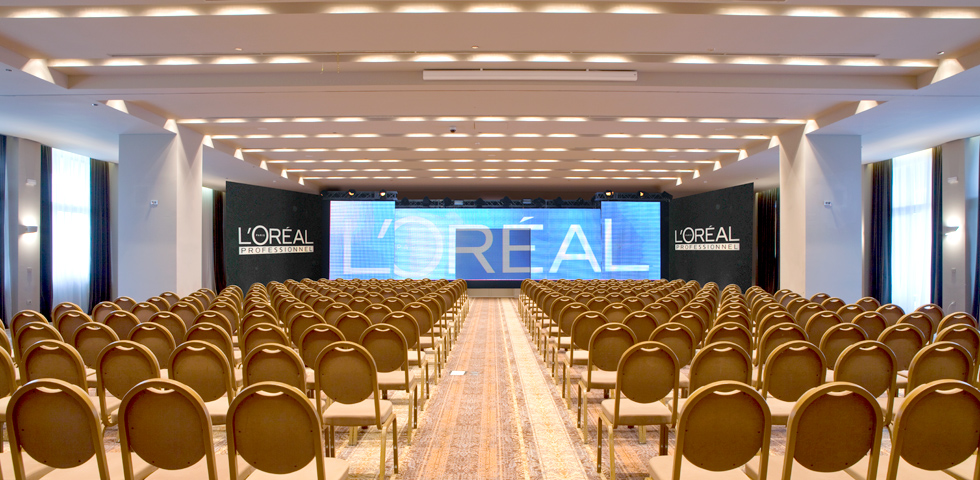 Meetings in Alexandroupolis
A total area of 1,500m2 that can host up to 700 persons


---
THE ASTIR*EGNATIA ALEXANDROUPOLIS BUSINESS HOTEL OFFERS AN EXCELLENT RANGE OF CONFERENCE FACILITIES AND MEETING ROOMS WITH TOTAL AREA OF 1.500 M² AND PERFECT BUSINESS ACCOMMODATION IN ALEXANDROUPOLIS. WHETHER YOU PLAN A CONFERENCE, BUSINESS MEETING, PRODUCT LAUNCH, SEMINAR OR DINNER DANCE, VERSATILE FUNCTION ROOMS AND SPECIALLY DESIGNED SUITES WITH STATE OF THE ART AUDIO-VISUAL EQUIPMENT ARE AT YOUR DISPOSAL.

WITHIN EASY REACH OF AN AIRPORT, HARBOUR AND THE NEW EGNATIA MOTORWAY, THE ASTIR*EGNATIA ALEXANDROUPOLIS BUSINESS HOTEL OFFERS THE IDEAL COMBINATION FOR MEETINGS AND EVENTS COMBINED WITH LEISURE.

THE EXPERIENCED CONFERENCE AND BANQUETING PERSONNEL PROVIDE EFFICIENT SERVICE TO SATISFY EVEN THE MOST DISCERNING ORGANISER AND ASSURE THE SUCCESS OF ANY FUNCTION.

Business Centre

---
Astir*Egnatia Alexandroupolis business resort in Alexandroupolis, is ideally located minutes away from the city centre. Our highly trained, extremely flexible, challenge-loving staff is ready to transform any of the meeting spaces to meet your own special requirements.

< DOWNLOAD FLOORPLAN & FACILITIES >




Facilities

---
CONFERENCE FACILITIES


BUSINESS CENTER FACILITIES


• Public address system with wireless hand-held and tie-clip microphones
• Table-top microphones
• Speaker microphones
• Tape recording (single or double) and in-print publication
• Camera video projectors
• Data video projectors
• Front & Back projection screens
• T.V. monitors, Plasma, Pro-screens
• Simultaneous interpretation system fulfilling the European Union specifications


• Personal Computers & peripheral
• Laptops
• Video players
• DVD players
• Wired or wireless voting system
• Video conference
• Satellite links
• Video walls
• Technical secretariat
• Fax & laser printers
• Stage lighting & special lighting effects and Stage scenery designing
• Flip charts


• 24 hour fax service and photocopies
• Courier on call
• Mail and postage
• Airline ticket confirmation
• PC hire
• AV equipment hire
• Internet corners
• Wi-Fi internet connection in all hotel areas and guest rooms excluding beach area


Extra equipment is available upon request.
---
EGNATIA CAPACITIES


MEETING ROOM
ROOM DIMENSIONS
(LXW in metres)
Theatre Style
Classroom Style
U Shape
Banquet Style
Cocktail Reception
Daylight
SAMOTHRAKI
353
400
140
45
300
450
♦
THRACE
316,8
360
140
45
230
320
-
THRACE I
126,4
80
45
25
85
120
-
THRACE II
188,8
130
84
36
150
210
-
TENEDOS
311
320
120
45
200
300
♦
IMVROS
30
30
18
16
-
-
♦
AESOP'S MYTHS RESTAURANT
133
-
-
-
100
150
♦
AESOP'S MYTHS RESTAURANT OUTDOOR
160
-
-
-
100
100
♦
ASTIR CAPACITIES


MEETING ROOM
ROOM DIMENSIONS
(LXW in metres)
Theatre Style
Classroom Style
U Shape
Banquet Style
Cocktail Reception
Daylight
CONFERENCE HALL
650
700
280
140
500
630
♦
CONFERENCE HALL 1
260
260
110
55
198
250
♦
CONFERENCE HALL 2
390
390
168
84
300
378
♦
CONFERENCE ROOM 1
77
77
33
16
60
75
♦
CONFERENCE ROOM 2
80
80
34
17
62
78
♦

Please contact the hotel for more information: [email protected]